What is compounding?
Pharmacy compounding is the art and science of preparing personalized medications for patients. Compounded medications are made based on a practitioners prescription in which individual ingredients are mixed together in the exact strength and dosage form required by the patient. This method allows the compounding pharmacist to work with the patient and the prescriber to customize a medication to meet the patient's specific needs.
History of compounding
At one time, nearly all prescriptions were compounded. With the advent of mass drug manufacturing in the 1950s and '60s, compounding rapidly declined. The pharmacist's role as a preparer of medications quickly changed to that of a dispenser of manufactured dosage forms, and most pharmacists no longer were trained to compound medications. However, the "one-size-fits-all" nature of many mass-produced medications meant that some patients' needs were not being met.
Did you know we are the only accredited compounding pharmacy in Kendall county?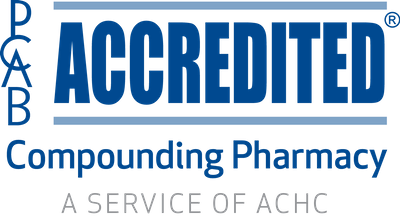 Our status as a PCAB Accredited compounding pharmacy lets you know that Annie's Apothecary is dedicated to protecting our patients by practicing safe, high-quality compounding.
In order for a compounding pharmacy to be accredited with the Pharmacy Compounding Accreditation Board through the Accreditation Commission for Health Care (ACHC) they must operate under the highest compounding standards and in accordance with U.S. Pharmacopeia Convention (USP) guidelines. Accreditation indicates that the staff have proper and ongoing training in preparing customized dosages; the pharmacy uses high-quality pharmaceutical ingredients; and all compounding procedures are fully documented and carried out according to established protocols and formulas.
Why compounding?
There are several reasons why prescribers and pharmacists provide compounded medications for patients. The primary reason for compounding is to avoid patient non-compliance, which means the patient is either unable or unwilling to use the medication as directed. Many patients are allergic to preservatives or dyes, or require a dosage that is different from the standard drug strengths.
With a physician's consent, a compounding pharmacist can:
Adjust the strength of a medication
Avoid unwanted ingredients, such as dyes, preservative, lactose, gluten, or sugar.
Add flavor to make the medication more palatable
Prepare medications using unique delivery systems. For patients who find it difficult to swallow a capsule, a compounding pharmacist may prepare the drug as a flavored liquid suspension instead. Other medication forms include topical gels or creams that can be absorbed through the skin, suppositories, and sublingual troches.
Have you or a loved one ever had difficulty taking medication?
You are not alone, many people experience issues such as these:
Stomach upset when taking oral medication
Reluctance to take the medication due to its taste
Difficulty swallowing pills
Requiring a different dose of medication than what is available from a manufacturer
Patients who don't want to take medication at all. especially children or pets.
We make medication time easier
Have you ever fought with a toddler to get them to swallow their medicine? Or tried to get a cat to eat a tablet?
Some medications have a very unpleasant flavor, which may make you reluctant to take it as directed. We can flavor many medications to make it more palatable without compromising the medications effectiveness. This is especially handy when dealing with patients, like children and pets, who may refuse their medication.
Sometimes you may need your medication in a different dosage form. For instance, if you or your child have difficulty swallowing a tablet, you may find it easier to take it in a pleasantly flavored liquid form. Some medications can also be compounded in a topical form such as a cream or a gel that would allow the medicine to be absorbed into your blood stream through your skin.
Allergy- friendly medication
Many people may be allergic to or intolerant of an ingredient commonly found in the commercially manufactured form of a medication. Ingredients that may be allergy-inducing include:
Lactose
Preservatives
Dyes
Gluten
Sugar
We can create a personalized medication, formulated to give you the treatment you need while leaving out the problematic ingredient.
Medication that has been discontinued
Sometimes a large pharmaceutical manufacturer discontinues medication. Often this happens because not enough patients are taking the drug, so it is unprofitable to keep mass-producing it. But what about the patients who still need that drug? We can re-create that medication by compounding it, so even if only one person still needs that medication, they can have it thanks to compounding!